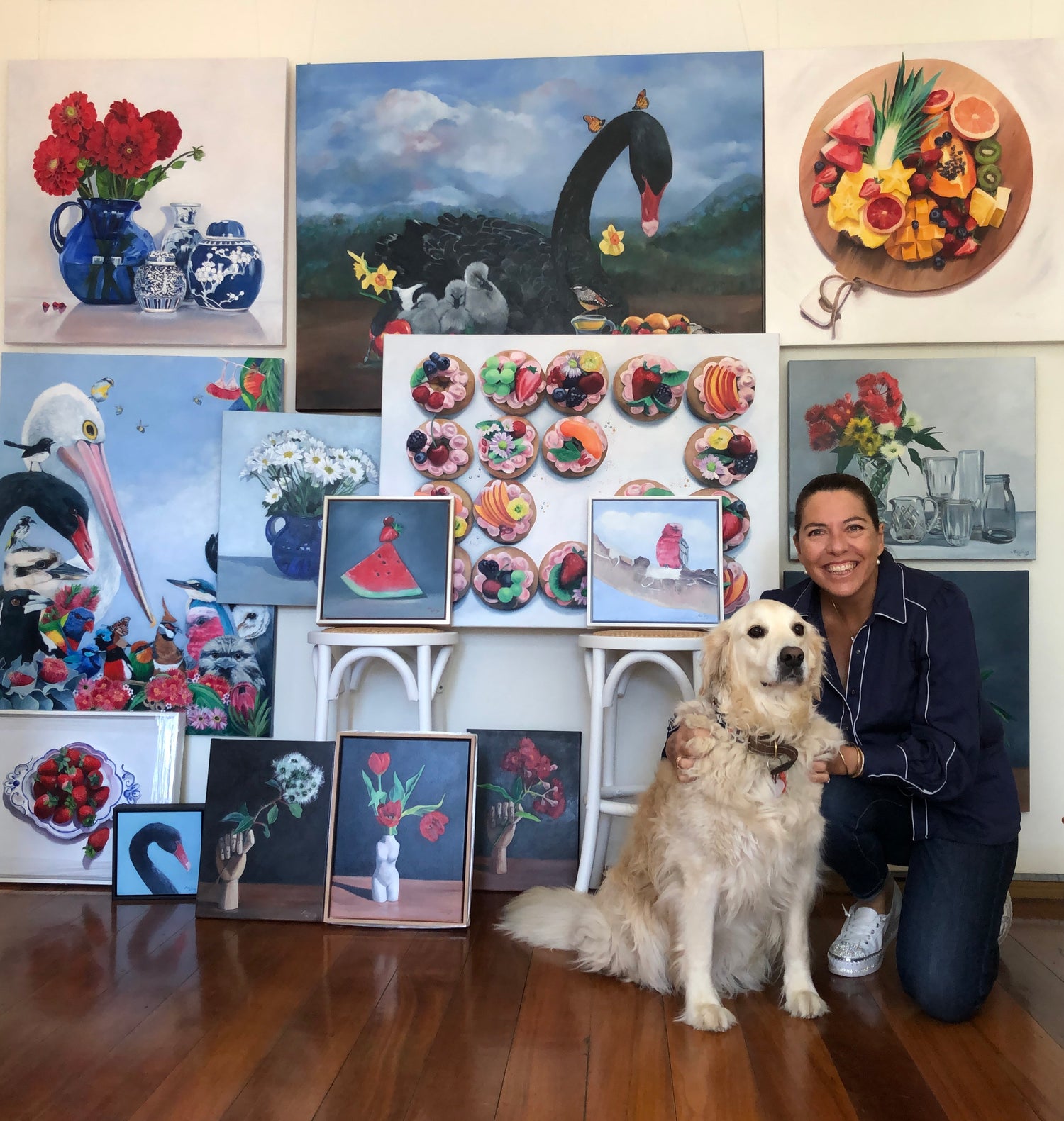 I am a professional oil painter and illustrator, working from my sunny studio in Perth, Western Australia. 
I am passionate about creating art that is not only beautiful, but brings conversation into homes.  I like to bring a joyful narrative to inanimate objects and to bring attention to our planet's amazing flora and fauna in a fun and joyful way. 
I love words and writing, with books and reading filling my spare moments.  I find the ridiculousness of the English language infiltrating my title choices, so look closely and you will find idioms or cheesy quotes as titles to some artworks.
My art is warm and bright and more often than not, brings humour and whimsy to my collectors homes. My work has been described by collectors as 'emotionally uplifting', a description of which I am very proud.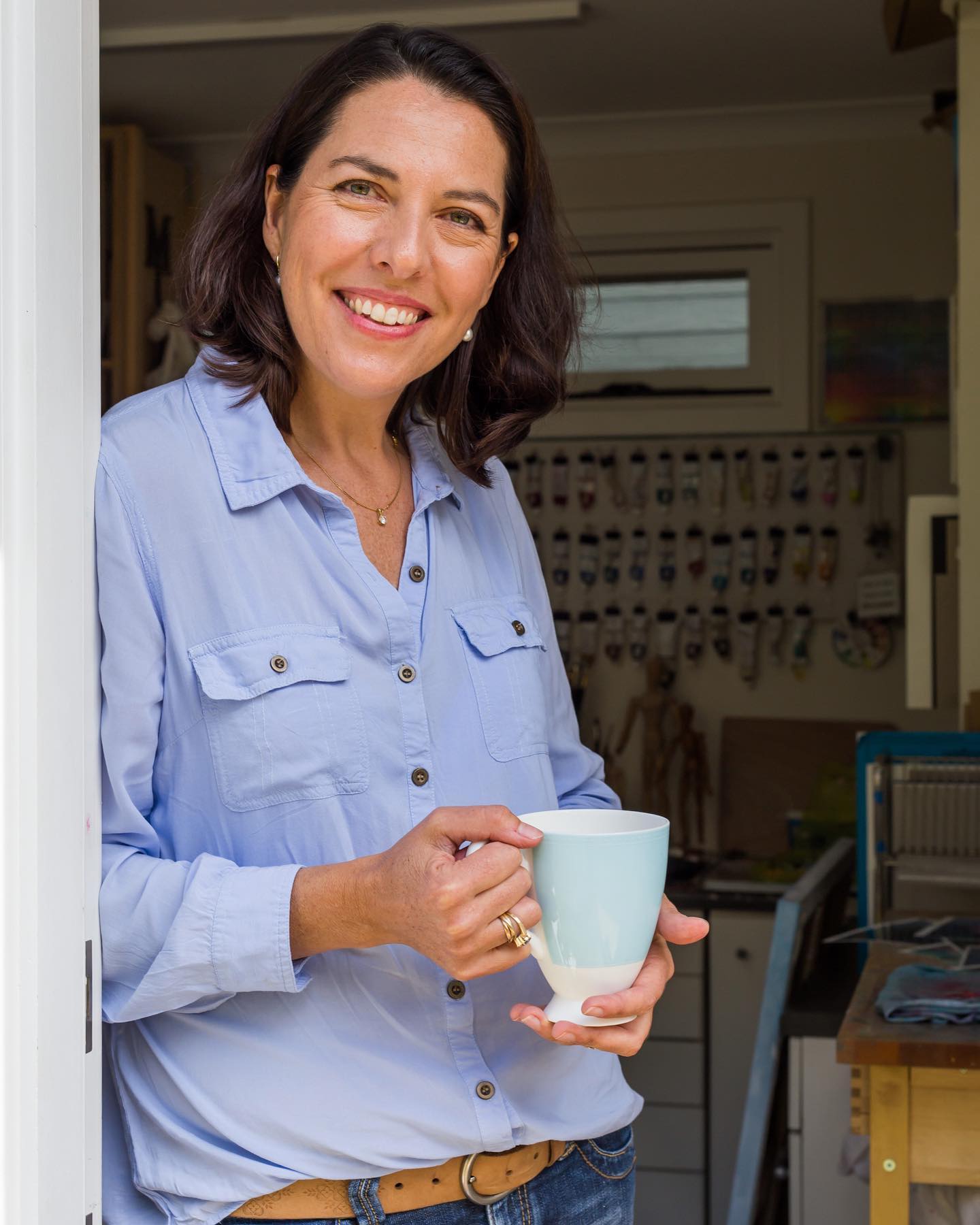 My work has affiliations with narrative illustration, symbolism and surrealism
I started my art journey, many, many moons ago, pursuing a career in Children's illustration, a genre I am still very passionate about. 
My current works still explore many aspects of the detailed and narrative illustrations I once enjoyed in gouache and watercolour. 
My work has become larger, more refined and beautifully realistic with the use of oil paint. My work has affiliations with narrative illustration, symbolism and surrealism. 
I am humbled daily by the wealth of talent across the Australian art market and across the world.
At times it has had me questioning what I can offer to my galleries and collectors that will be different to everyone else. That answer has been simple…Me. 
Hard work, tenacity, bringing advice, knowledge and support to other artists and showcasing beautiful, highly original art to my collectors and galleries is my goal.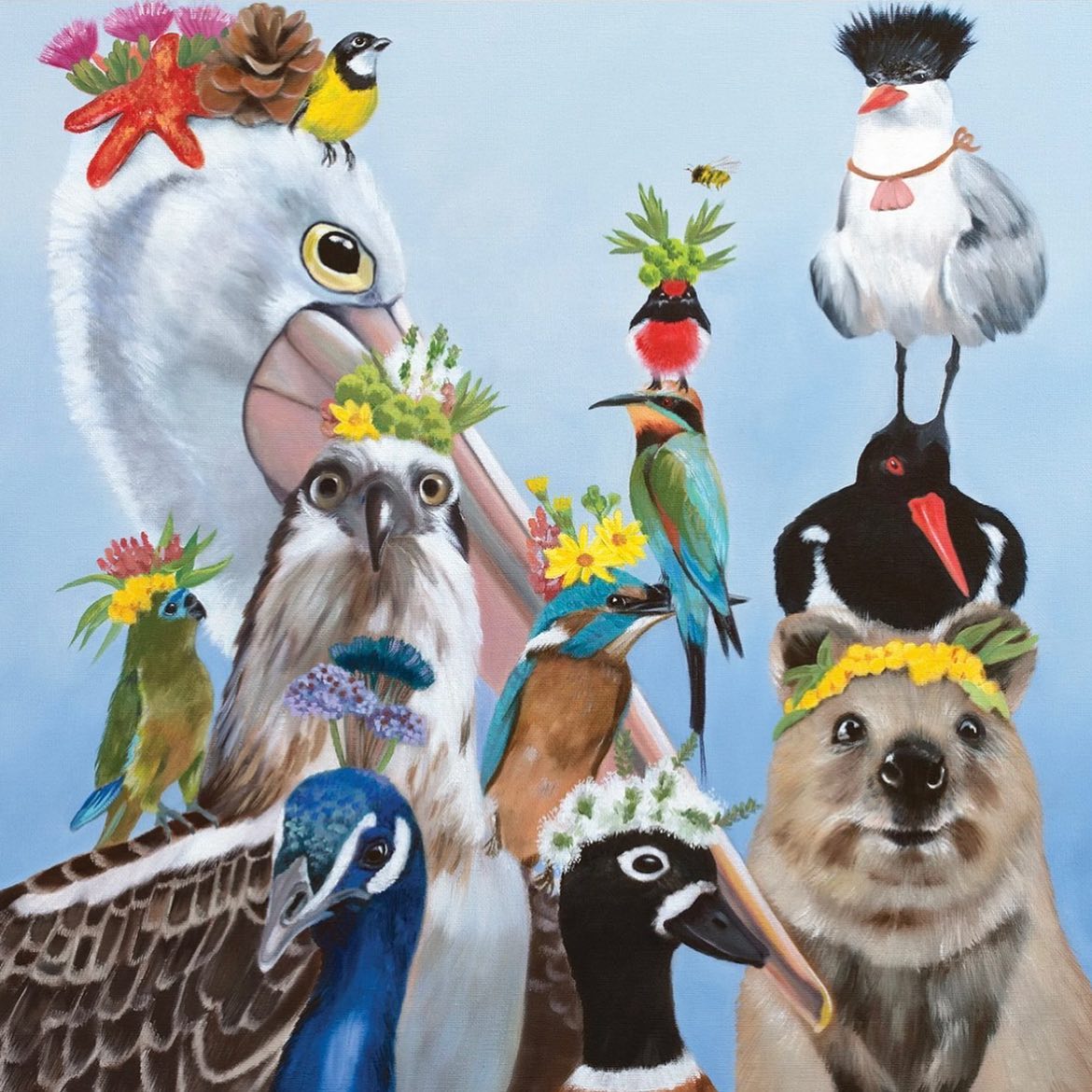 Imaginative realism, creativity & humour
I have sourced leading Australian businesses to support my work.
I use Australian made professional artist pigments, professionally made supports and frames and work with the best of Perth's photographers and printers to take my art from my studio to your home with a guarantee of quality.
I want my art to make people happy, to bring joy to their homes and to be a lasting heirloom piece for many generations to come. 
I work with Australian licensing and homewares company Lalalandshop to bring you my greeting cards. They can be found online and in leading giftware shops Australia wide or here with me. (I am open to working with other licensing companies.) 
Please follow along with my art journey via my email newsletter.  This is where I launch my new collections, bring news of events and studio openings and write about my life at the end of a paintbrush, bringing you on the swings and roundabouts of an artistic life. 
Cafes
LC Caffe

Davies Road Claremont, Western Australia

View
Follow along with my art journey
Sign up to my monthly newsletter "Life at the End of a Paintbrush" for new originals and prints, plus tips and tricks for artists and general musings for collectors & art lovers.
New Originals
Originals collection description
Regular price

$2,300.00 AUD

Regular price

Sale price

$2,300.00 AUD

Unit price

per

Regular price

Sale price

$0.00 AUD

Unit price

per

Regular price

$950.00 AUD

Regular price

Sale price

$950.00 AUD

Unit price

per
Latest Prints
Regular price

$100.00 AUD

Regular price

Sale price

$100.00 AUD

Unit price

per

Regular price

$100.00 AUD

Regular price

Sale price

$100.00 AUD

Unit price

per

Regular price

$100.00 AUD

Regular price

Sale price

$100.00 AUD

Unit price

per
Awards & Collections
 Awards

2022 Runner Up - Maritime Art Award 2022 (Bounded By Sea)

2020 Winner People's Choice – Mandjar Art Award 2020 (Sunset Love)

2017 Winner People's Choice – Mid West Art Award 2017 ('Electric Blue')

2016 Winner 'Best Oil'– West Australian Society of Arts Annual Show 2016 – ( 'Drift')

2015 Winner People's Choice –West Australian Society of Arts Annual Show – 2015  ("Reflection")

2014 Winner Framers's (Curator's Choice) Prize – Perth Royal Agricultural Show – 2014  ("Reflection")

2013 Highly Commended –West Australian Society of Arts Annual Show – 2013  (Peaches and Pottery")

2012 Winner People's Choice Award –Town of Mosman Park Art Awards – 2012 ("Look Before You Leap")

2012 Winner First Prize –SAVE Animal Art Awards 2012 Perth Expo – 2012  ("Girl's Best Friend")

Collections

2015 – Permanent Acquisition– Continental Court Apartments, Claremont – 2015  ("Stormy Reflections, Freshwater Bay")

2014 – Permanent Acquisition– Sock it to Sarcoma Cancer Foundation – 2014 ("Joy")

2013 – Permanent Acquisition– Hollywood Adolescent and Youth Cancer Centre – 2013  ("Sock it to Sarcoma")

2013 - Permanent Acquisition –Newman College – 2013  ("Summer Love")

Solo Shows

Selected Permanent Artist in Residence Dalkeith Vet, Dalkeith. 

2016 – Selected Permanent Artist in Residence Aube Nouvelle Interior Design and Homewares

Aube Nouvelle Interior Design and Homewares, Claremont, 3 month invited artist 2015

Suburban Table Restaurant, 3 month invited artist 2013

Solo Artist Wall – Perth Art Expo – 2012

Three Person Show

2019 Kidogo JAM (With Joanne Duffy and Alix Korte) Kidogo Art house Fremantle 14-20th November 2019

2016 Three Palettes Exhibition (With Alicia Gorey, Jan Brown) – Moore's Building Contemporary Art Gallery Fremantle, 1st – 17th April 2016
Group Exhibitions
2023

Walmsley Lane Artists - Subi Spritz (12 Month Insitu)

Beverley Station Arts Award 2023

West Australian Society of Arts (WASA)

Army Art 2023

Churchlands Senior High School Art Exhibition

Cossack Art Award

2022

Juniper Galleries 'Swoon' Exhibition

West Australian Society of Arts (WASA)

Churchlands Senior High School - Feature Artist

Cossack Art Award

Kalgoorlie Art Award

Army Art

Hale College Art Exhibition

Morowa Art Exhibition

Mission to Seafarers Maritime Art Award (Prize Winner)

Melville Art Award

Lifeline Art - Juniper Galleries

2021

Churchlands Senior High School

Hale College Art Exhibition

Cossack Art Award

Kalgoorlie/Boulder Art Award

Army Art

Perth College Art Exhibition 

West Australian Society of Arts 

City of Stirling Art Award

Art For The Animals Invited Artist

Melville Art Award

Lifeline Art - Juniper Galleries

2020

Melville Art Awards 2020

Finalist York Botanical Art Prize

Mandjar Art Exhibition (Award Winner)

Hale School Art Exhibition 

2019

Hale School Art Exhibition

Rottnest Foundation Art Award

Beverley Art Award

West Australian Society of Arts 

Petrichor Little Big Art Award

Perth College

Donated painting Stalight Children's Foundation 

2018

Beverley Art Awards

Kalgoorlie Art Prize

Churchlands Senior High School

West Australian Society of Arts (SOLD) Cossack Art awards

Perth Art UpMarket (Stall Holder) 

Pup Art for Guide Dogs WA exhibition 

70 Violins for 70 years 

2017

Newman College

Cliftons Art Award

Perth College (SOLD)

MLC Ladies College (SOLD)

Beverley Art Prize

Mandjar Art Prize

West Australian Society of Art

Churchlands Senior High School

Mid West Art Awards (PRIZE WINNER – People's Choice)

Kalgoorlie Art Awards

Melville Art Awards

Royal Agricultural Show Inaugural Landscape Prize Finalist (SOLD)

St Marks College (Featured Artist)

Bencubbin 100yr Celebrations Featured Artist

2016

Newman College Art Expo (invitation only) (SOLD)

West Australian Society of Arts Annual Show (Prize Winner)

Army Art (invitation only – August)

Claremont Art Awards – (pending August)

Finalist Clifton Art Awards (Australia, New Zealand, Singapore, HongKong - 100 finalist only)

St Marks College art awards 

2015

Newman College Art Expo (Invitation only)

PUBLIC Salon 2015

West Australian Society of Arts Annual Show (Prize Winner)

City of Wanneroo Art Awards

Perth Royal Agricultural Show

2014

Newman College Art Expo (Invitation only)

West Australian Society of Arts Annual Show

Perth Royal Agricultural Show (Prize Winner)

Natural Environment Exhibition, ENEX100 Perth City (SOLD)

City of South Perth Emerging Art Awards

2013

Newman College Art Expo (Invitation only) (SOLD x 2)

West Australian Society of Arts Annual Show (Highly Commended)

Perth Royal Agricultural Show (SOLD)

City of South Perth Emerging Art Awards

2012

City of Mosman Park Art Awards (People's Choice Winner)

Perth Art Expo – University of WA (Animal Art Award 1st Prize Winner)

Perth Royal Agricultural Show

City of South Perth Emerging Art Awards